Press and hold the small black reset button (where the arrow is pointing in the above image) for 15-20 seconds until the front blue light starts to flash. When it's flashing, your device is ready for pairing.
You can also remove the back cover of your Motion sensor for easier access to the reset button.
Press the Kangaroo Button for 15 seconds. This will completely reset your sensor and remove it from your home. Once reset, it will automatically enter Pairing Mode.
To reset your sensor, Simply press and hold the Kangaroo button for 20 seconds or until the blue LED light starts flashing, afterwards you may start pairing it again with the app.
Hold down Cancel (X) and Enter (√) at the same time for up to 10 seconds. The siren will prompt you to input your PIN code and hit Enter (√)
Press and hold the Privacy Shield button for 15 seconds.
Doorbell Camera
To reset your Doorbell Camera:
Remove the top cover from the bottom cover. Do this by pulling from the bottom of the doorbell.
Press and hold the button on the cover until you see a blinking light (about 10s). The cover must be off in order for your doorbell to reset.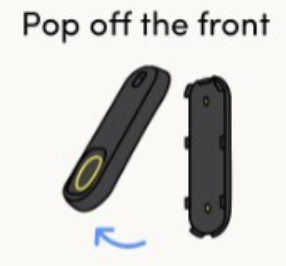 Chime
To reset the Chime, press and hold the button on the side of the chime for 15s while the chime is plugged into the wall.